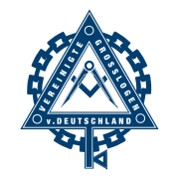 The United Grand Lodges of Germany (VGLvD)
Since 1958 the United Grand Lodges of Germany have been the umbrella organisation for five Grand Lodges in Germany. There are currently more than 15.000 German Freemasons who have their membership in five independent Member Grand. Each Grand Lodge has its own traditions, customs, and some are run in the English language.
Freemasons in Germany
The five Grand Lodges have various histories; as every one of these Grand Lodges commit to the universal principles of freemasonry, they are members of the VGLvD.
This means there are five co-operating members of the United Grand Lodges of Germany. A Freemason is permitted to be a member of one of the five Grand Lodges and automatically becomes a member VGLvD.
The main objective of VGLvD is to represent the Grand Lodges as a united entity overseas and for the Public relations in for the German press, and general public, the VGLvD is often called the 'foreign ministry' or the 'voice' of German Freemasonry.
These are the Grand Lodges in Germany